Cute to sassy in just one flip!
These cat & kittencorn plushies are REVERSIBLE! ≧◡≦
Show your mood without saying a word!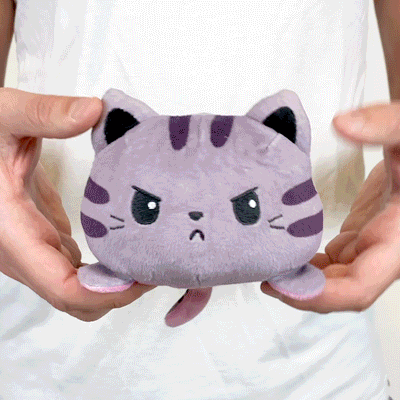 Dimensions: 5" long x 4" tall x 4.75" wide
Colors: Tabby/Rainbow
Ages 3 and up
I'm one of a kind!
Reversible Cat & Kittencorn Plushies are a TeeTurtle original design, and are protected by U.S. Design Patent Nos. D836,168 and D822,127. That means you can only find these adorably unique creatures at MOLORE!
>Spot clean with gentle soap
>Cuddle daily
✔ 30 Days Money Back - No Questions Asked
✔ Tracking Number for every order
✔ Secure Payments via Credit / Debit Card or PayPal
✔ Fast Order Processing
✔ Top Quality Products
✔ Every product is inspected before shipment
✔ 24 / 7 Customer Support

We claim that we offer the most innovative products in the world, so we offer a 30 days money back guarantee for all products.
If you have not had a positive experience with us, we will do everything we can to make you are 100% satisfied with your purchase.
We know that online shopping always involves some risk, which we want to take from you. We guarantee 100% secure payments and a 30 days money back guarantee!
Our customer support is available 24 hours a day, 365 days a year, if you need help or have questions about your order do not hesitate to contact us via online form on the website or on ttshopnicea@yahoo.com